Ariana Grande Just Made Us Cry With Her Tearful Speech at Billboard Woman of the Year Awards
Kevin Mazur/Getty Images for Billboard
It's official: Ariana Grandetruly is the woman of the year.
The pop princess accepted the honor at Billboard's 2018 Women in Music Awards. She graced the stage in a short lavender dress, which she nicely paired with matching knee-high lavender boots. 
Patti LaBelle presented the singer with the honor, calling her "all that and a bag of chips."
But before Ari could take the stage, a video of artists like Pharrell and Katy Perry played, where they praised her vocal talents and onstage presence. It also touched on the artist's bravery following the tragic bombing that took place at one of her concerts in Manchester, England in May 2017.
She then performed the chart-topping song "Thank U, Next," after which Ariana jokingly thanked every one for attending her quinceanera. Once the laughs subsided, Ariana began to thank the various women, managers and performers who have helped her advance in her career. "This is really special. I want to say that I find it interesting that this has been one of the best years in my career and one of the worst years in my life," she said, holding tears back.
Ari explained that she isn't asking for sympathy, but so that people know they're "not alone."
The songstress concluded her speech by sharing her hopes for the new year. Grande said, "I look forward to giving some of the love and forgiveness to men I gave so frivolously in the past to myself this year."
Ellie Goulding hosted the star-studded event at the Pier 36 in New York City on Thursday night. 
To see all the glamorous ladies who walked the red carpet at the Billboard Women in Music Awards, check out the gallery below!
Kevin Mazur/Getty Images for Billboard
Cyndi Lauper

Time after time a look comes around that we never want to forget and this is one of them. For the big night, Cyndi dons a slimming green gown and silver earrings.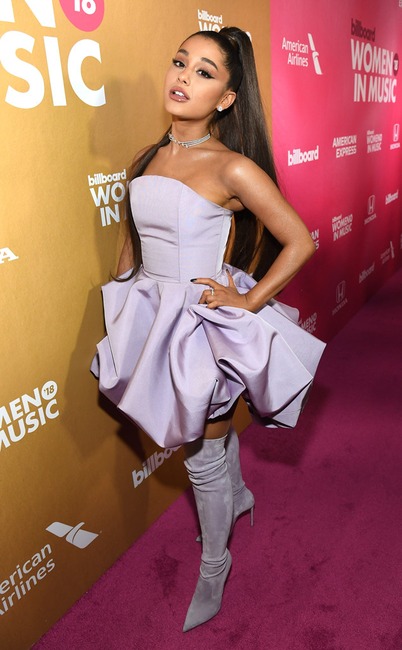 Kevin Mazur/Getty Images for Billboard
Ariana Grande

Ari stuns in a strapless lavender dress, knee-high boots and silver jewelry, all matching the soft colors featured in the music videos for songs like "God Is a Woman" and "Breathin". Tonight, the pop princess will accept the award for Woman of the Year at the star-studded dinner.
Evan Agostini/Invision/AP
Hayley Kiyoko

The Rising Star award recipient exudes power and grace in a red flowing dress, stiletto heels and a pink bun.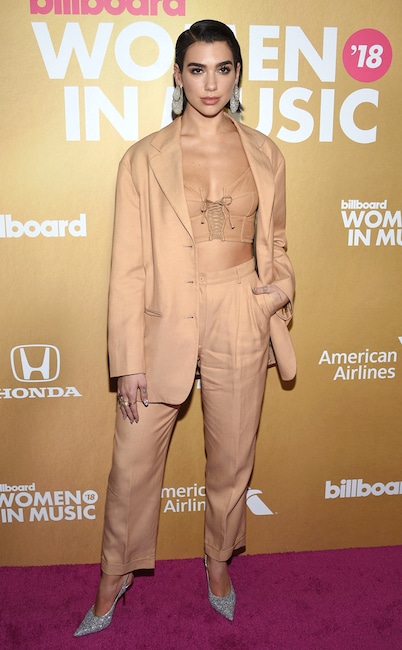 Evan Agostini/Invision/AP
Dua Lipa

New Rules: All pantsuits need to be as stylish as the one Dua is wearing. The British songstress rocks a crop top, over-sized suit and silver heels.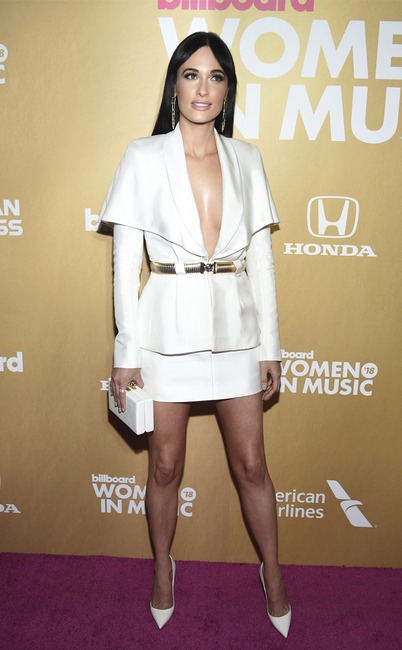 Evan Agostini/Invision/AP
Kacey Musgraves

This country girl is making the streets of the Big Apple her runway. The Innovator award recipient dazzles in a stunning white peplum dress and the matching pointed toe heels. She accessorized with a clutch and gold belt.
Evan Agostini/Invision/AP
Regina Spektor

Orange is truly the new black, as the famous singer proves in her long orange coat and black leather boots. 
Evan Agostini/Invision/AP
Janelle Monae

Janelle takes the power suit to a whole other level with assless chaps, flowing sleeves and a daring red lip.
Evan Agostini/Invision/AP
Ashley Graham

The model dons a stunning two-piece ensemble which features flowing lace sleeves and a flash of her midriff. 
Kevin Mazur/Getty Images for Billboard
Alicia Keys

This girl is on fire! The singer went comfy-chic with a form-fitting orange suit and a large brimmed hat. 
Evan Agostini/Invision/AP
Lauren Jauregui

The former Fifth Harmony singer stuns in an asymmetrical black and white dress, which are fashionably paired with knee-high black boots.
Evan Agostini/Invision/AP
Ellie Goulding

Ellie has us starry eyed with her romantic silk dress and neon green pumps. Not to mention the flash of the leg!
Stay pop cultured with E! News weekdays at 12PM, 7PM & 11PM
Source link